Produksi bawang putih Cina menyumbang lebih dari 70% dari total output dunia. Daerah penanaman bawang putih Cina adalah sekitar 700 ribu hektar, terhitung lebih dari 60% dari total area bawang putih di dunia. Basis produksi utama terkonsentrasi di Shandong, Henan, Jiangxi, Guangxi, Anhui dan seterusnya. Industri bawang putih Cina telah berkembang dengan baik, dan pasar memiliki ruang yang luas. Senyawa mengandung sulfur dalam bawang putih memiliki efek anti-inflamasi dan anti-inflamasi yang kuat. Ini memiliki penghambatan dan efek pembunuhan pada berbagai Staphylococcus, bacilli, jamur dan virus. Ini adalah salah satu efek antiseptik dari tumbuhan alami yang ditemukan saat ini.
Cina adalah produsen, konsumen, dan eksportir bawang putih terbesar di dunia, output bawang putih di Cina adalah sekitar 2 juta ton per tahun, dengan ekspor 310.000 ton, produksi dan ekspornya di seluruh dunia kini lebih besar daripada dari negara lain . The gralic dijual ke lebih dari 60 negara dan wilayah di Eropa, Amerika Selatan, Timur Tengah dan Asia Tenggara dan memenangkan penilaian tinggi di antara para pelanggan. pada saat yang sama, kami juga menyediakan Bawang Putih Segar, Jahe Segar, Jahe kering, Wortel segar, bawang segar, bawang Kupas, kastanye segar, jagung manis, talas segar, kentang segar, mandarin bayi segar, anggur merah segar, jeruk bali segar, Fresh Ya pear, cabai Chaotian, bubuk paprika, apel segar dan sebagainya.
Name

Normal white garlic

Size

5.0cm, 5.5cm

Place of origin

Jinxiang, Jining, Shandong, China

Edibleness

Reducing bacteria, keeping the heart in good condition and immunity.

Certification

SGS;GAP

Supply period

The whole year

Fresh season: early June to mid September

Cold storage season: September to next June

Standard

Class A(suitable to export)

Packing

Loose Packing:

5/6/6.5/7/8/9/10/20KG MESH BAG;
5/6/6.5/7/8/9/10KG CARTON


Small Packing:

120Gx40/4.8KG CTN, 160G*40/6.4KG CTN, 200gx20/4kg CTN with pallet, 240G*42/10KG CTN , 300G*34/10KG CTN ,400Gx20/8KG CTN,500Gx20/10KG CARTON, 900Gx10/CTN,1KGx10/10KG CTN,

4P 200G*12/2.4KG BAG,250Gx20/5KG BAG , 300Gx8/2.4 BAG ,

500gx10/5kg MESH BAG,10P 100G*10/8KG BAG,

Quantity/conveyance

26/27/28/MTS FOR ONE 40RH CONTAINER

Shipment degree

-3°- 0°C

Delivery time

5-7 days after got buyer's deposit

Shipment port

Qingdao Port of China

Main importing Country

UK, Greece, Poland, Russia, France, Norway, Turkey, U.A.E, Kuwait,

Algiers, Arabia, Bangladesh, Thailand, Malaysia, Brazil, Canada, America
Jika Anda memiliki kebutuhan apa pun, silakan hubungi saya.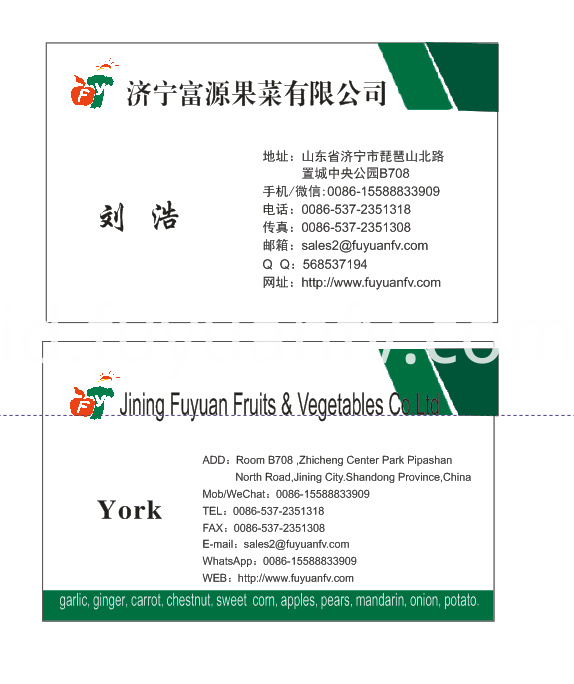 Kategori Produk : Bawang Putih Segar > Normal White Garlic 5.0-5.5cm